Those contemplating home improvements may wish to consider stone flooring as it is a timeless addition to your home and will last forever.
However, individuals considering such enhancements to their properties will want to get the professional in as laying such floors is not a job for an amateur.
Stone flooring has long been luxurious floors covering its benefits are vast.  Working as a terrific (some say the best) conductor of heat with under floor heating systems in the winter and keeping your property nice and cool in the summer, it is no wonder it continues to be highly fashionable and popular for home builders or renovators.
Installation, Sealing and maintenance are key and under our instructions we can make your new limestone floor last a lifetime. Indeed getting the finish right is also crucial a limestone floor should always be in keeping with your property for example an antiqued limestone floor can look great in a period property we are always on hand to help you make the right choice to make sure your final decision is the correct one.
If you are building or currently restoring a family home and need some further information, please do not hesitate in contacting Landford Stone Ltd on 01794 324232

Underfloor Heating for Tiles/Marble/Slate/Natural Stone Floors
Under floor heating is not a new idea, in fact, the Romans were using it 2,000 years ago. Electric underfloor heating in the UK, on the other hand, is relatively new and has only been in use since the 1960s. However, it has progressed a long way since then. Especially in the last few years.
Energy efficiency has improved dramatically with the use of high tech insulation.
Installation is simpler now as it does not need to be fixed deep into thick concrete floors.
The whole floor is heated up more evenly and smoothly without getting too hot giving total heat distribution.
Reliability is great now with floor heating being the long lasting option that requires no maintenance.
Our floor heating cables and mats are premium quality with a unique TwistedTwin™ cable and lifetime warranty.
With a traditional heating system the top of the room is usually over heated to allow the lower parts of the room to reach a comfortable temperature. Electric underfloor heating radiates heat evenly upwards from your floor. This creates the perfect spread of heat, or "heat signature", throughout your room resulting in increased comfort and energy savings.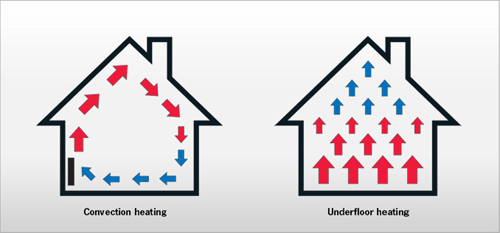 With all of Landford Stones floor installations we recommend the use of a de coupling membrane. Schluter-Ditra 25 uncouples the floor covering from the substrate and neutralises the tensions between the substrate and the tile covering that result from the varying deformations of the materials. Likewise, stress cracks in the substrate are bridged and are, therefore, not transferred to the surface covering.