Landford Stone is pleased to inform you that our new Edge Polishing Machine and Gantry Crane have now been installed, commissioned and running smoothly. The past few months have been very busy for us, with rearranging equipment in the factory whilst ensuring that there has been no disruption to our production. Due to the upturn in the economy our order intake has increased substantially and we have been recruiting several new employees to work within all departments of the company.
---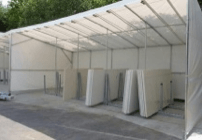 Teltos
The new Teltos range has been extremely well received and is "flying out the door"; and in order to ensure that it stays in a pristine condition, we have erected new shelters to accommodate it (the Carrara Onyx, which is stunning, has proved to be especially popular).
---
Pre-Christmas
We are fast approaching our busiest time of the year. Yes, it will soon be here… Christmas!
At present, our earliest templating date is one month from order date. To avoid the disappointment of being unable to have your Landford Stone installation in time for Christmas, please place your orders as soon as possible. Our installation diary is filling up fast, so any jobs which are delayed may prove to be problematic with regards to rescheduling.
---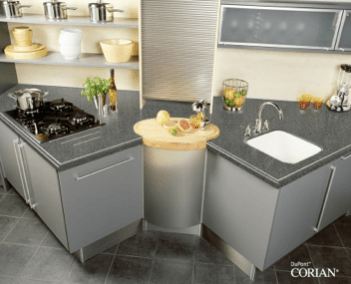 Landford Stone Solid Surface department
Landford Stone are now able to offer an additional service to our customers, which is Corian and other solid surfaces. For more information and details please visit our website at www.landfordstone.co.uk
---
Website
The website's being updated all the time; please keep an eye on it, for new information and updates. Follow us on Twitter and Facebook for the latest news and trends. We would like to strengthen and benefit your company along with Landford Stone; this can be achieved with links made from our website to yours and vice versa. If you're interested in linking websites then please contact Ryan by sending him an email: ryan@landfordstone.co.uk
We would like to say a big thank you to all the people that made it to our two open days; we hope that you all enjoyed it. Landford Stone are happy to say that we received two awards in July for the business of the year awards in the two following categories. Marketing 2014 & Manufacturing 2014.