All kitchen and bathroom worktops that we produce are entirely unique as each stone is different, with its own intrinsic qualities. We are expert at understanding your needs and executing these in meticulous detail.
Polished
This is the most popular finish for worktops, which gives your worktop a glass-like surface. Some granites are resined during the polishing process to fill the naturally occurring micro fissures present within the "grain".
Honed
Honing gives the stone a matt finish. Honed black granite is often used instead of slate for kitchen worktops because of its hardness and durability.
Satinato
This fine textured satin finish is ideal for those looking for an alternative to highly polished or matt surfaces. it is created by "brushing" honed marble or granite with diamond brushes to create an "orange peel" or "leathered" texture. The edges of satinato worktops are usually supplied in a "silky" semi polished finish.
Antique
Antiquing the stone involves flame texturing and diamond brushing to produce a coarser textured, but still hygenic finish. The edges of antiqued worktops are usually honed, which compliments the antique surface subtly.
Drainer Groove Areas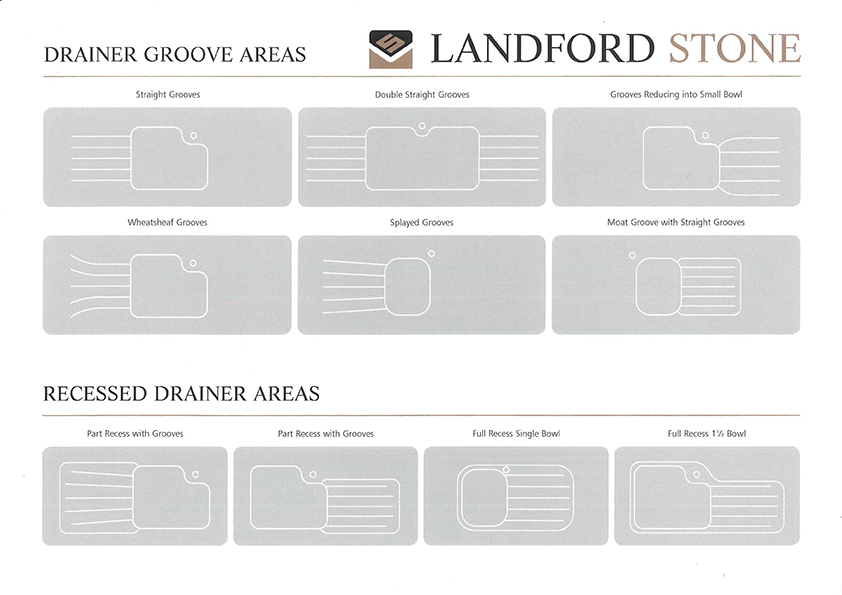 Edge Details
Landford Stone are able to produce a wide range of edge profiles for worktops and below, we show some of the popular edges that we create.
When requesting a quote, please advise which edge profile you would like. Again, the rule of thumb is that upstands and splashbacks only need a Flat Polish.